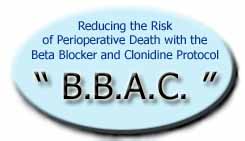 Principal Faculty and Credentials
Arthur Wallace, M.D., Ph.D.
Professor of Anesthesiology and Perioperative Medicine, UCSF Medical Center
Attending Anesthesiologist, San Francisco VA Medical Center

Media used - Web-based educational materials
Method of physician participation in the learning process
Reading and/or listening to the web presentation. Online registration, quizzes and evaluation forms. Online discussion forum and email contact with principal faculty will also be available.
Estimated time to complete the course - 2 hours
Disclosure: Conflict of interest statement: Neither I, Dr. Arthur Wallace, nor any member of my family, has a financial arrangement or affiliation with any corporate organization offering financial support or grant monies for this continuing medical education program.
Date of original release - April 3, 2005, Most recent update - May, 2008
Termination date - June 3, 2008